Shop the SLCRC!
Show off your pride in the Republican Party and the St. Lucie County Republican Club. Check back for new items from time to time. And remember, every purchase you make is an investment in your club. Thank you!!!
---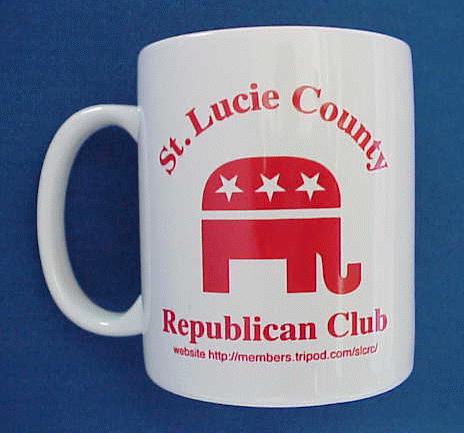 Here it is! The long-awaited SLCRC ceramic mug. The perfect mug to hold that first cup of coffee or tea, or fill it up with candies, pencils, or pens. Whatever you use it for, you will be letting those around you know that you are part of an organization that doesn't just talk about change, but makes it happen.


Only $5.00 each.
Approved and used by coffee experts everywhere!!!
---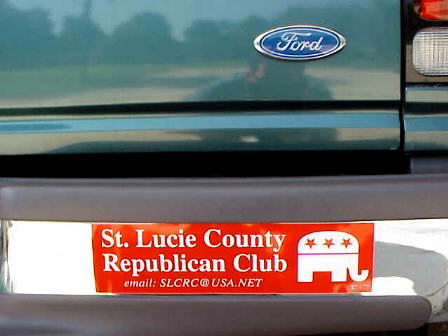 Help out your club by putting a bumper sticker on your car! Our stickers are made of high-quality vinyl and will not leave sticky residue when removed. An SLCRC bumper sticker on the back of your car will tell other drivers they are following a leader, and you'll be helping promote our club to Republicans interested in joining.


Just $1 for SLCRC members or $2 for non-members.
---
Suggest a new item or get information on how to order by e-mailing the SLCRC at StLucieGOP@usa.net.
SLCRC Home
Join Now!/ President's Welcome/ Photo Album/ Sign the Guestbook/Newsletter/ Links Page