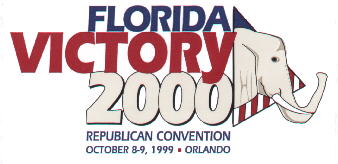 Victory 2000, Florida's Republican Convention, kicked off the state's 2000 election cycle in grand style. Delegates had the chance to speak with party leaders and elected officials from around our state and nation. St. Lucie County sent almost 50 delegates to the convention. Here's a brief sampling of what they saw!
---
St. Lucie State Committeeman Allen Miller leads 3000 statewide delegates in the Pledge of Allegiance during opening ceremonies.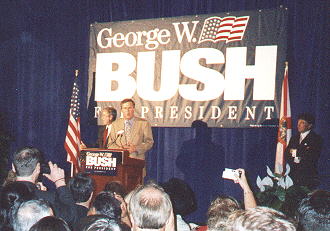 Governor Jeb Bush introduces Governor George W. Bush during a special reception for the presidential hopeful. The Texas Bush says the best thing he and his brother ever did was listen to their mother.

Our county's delegation rising as Republican Party of Florida Chairman Al Cardenas takes the stage. Most of the delegates from St. Lucie are also members of the St. Lucie County Republican Club.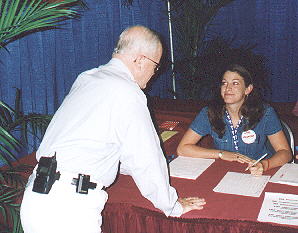 Republicans are always ready to pitch in and help. Here, St. Lucie Delegate Faith Sigler volunteers to register other delegates as they arrive at the convention.

Lt. Governor Frank T. Brogan, the SLCRC's honored guest in November, speaks on the important topic of education and the Bush/Brogan A+ Plan. The lieutenant governor also introduced delegates to a young man who has had his life enriched through participation in the governor's mentoring program.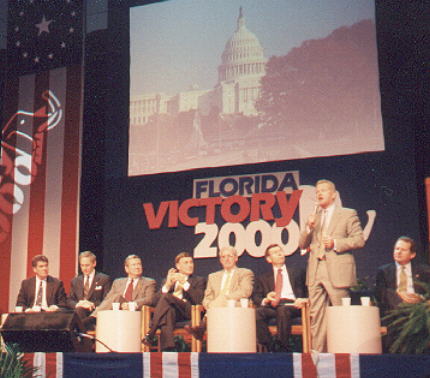 Congressman Mark Foley, who represents much of the Treasure Coast, responds to a question from the audience. The congressman was part of a panel of Florida's Republican U.S. Representatives who participated in a question and answer session with delegates.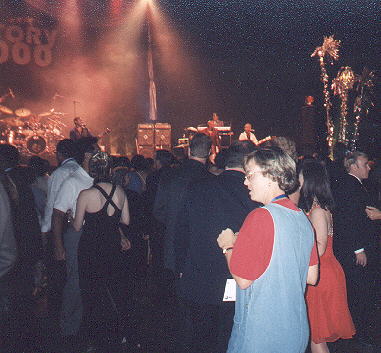 CELEBRATE GOOD TIMES, COME ON! Who said politics is boring? Club members join other delegates and the musical group "Kool & The Gang" to celebrate the end of a great convention. Do you wish you could have been there? Well, if you're not a member of the St. Lucie County Republican Club, join now and you could soon be in the picture!
Back to SLCRC Home